Overview
Green Hills Software's embedded software technology thought-leaders will present technical sessions in the Exhibitor Forum, embedded world Conference and demonstrate optimized solutions on our stand (Hall 4, Stand 325). See compelling solution demonstrations that tackle real-world challenges. Experience the power of proven products and expertise with the support from our customers and partner ecosystem
Click the button on the right below to register for the show and receive your free-of-charge exhibition ticket in advance (instead of €25.00).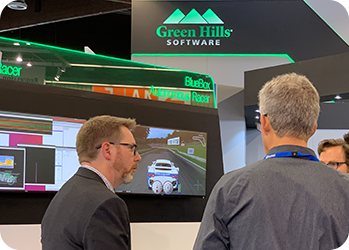 Featured Technologies
e-Sync OTA Updates and AWS Cloud
LIDAR, Surround View, Radar Detection
Mixed-Criticality Consolidation
High Performance Graphical Interfaces
RISC-V
Safe and Secure Virtualization
AUTOSAR (Classic and Adaptive), Linux, Android, ROS 2
Advanced Software Tools, Cloud-Based Development and Testing
Secure Credential Management, Security Appliances, Supply Chain Security, Device Lifecycle Management
Our Partners
Brought to you in cooperation with our partners at Arm, Altia, Apex.AI, Excelfore, Google Android, Tata Elxsi, Vector and others. Running on the newest processors from NXP, Qualcomm, Renesas, Microchip, Raspberry Pi.
Exhibitor Forum (Hall 5-335)
This year, Green Hills Software is participating in embedded world's Exhibitor Forum, offering sessions open to all attendees. Chuck Brokish, Director of Business Development, will be presenting the following on the show floor in Hall 5, Booth nr. 5-335.
Leveraging Safety and Security Across Critical Industries to Deliver Best Practice for Developers
Tuesday, 21st June, Time: 1:30pm – 2:00pm
As products' capabilities become more dependent on software, the need to ensure the safety and security of those software solutions also increases. There are many critical industries that have already defined requirements for safety and security. This enables the newer industries to leverage such definitions and requirements. In this presentation, we will review past work from other industries, current developments underway, and discuss those future products which will need to consider similar requirements. We will review best practices in developing critical systems.
System Level Solutions Require Advanced System Level Tools and Visibility – Game Changing Capabilities for Developers
Wednesday, 22nd June, Time: 2:00pm – 2:30pm
Chip designs continue to get more complex – enabling feature rich products with optimized computing capability. System-on-Chip solutions are integrating multicore designs with different cores – creating very capable heterogeneous designs. But this complexity is also complicating development and debug of such systems as the processing load is distributed across different cores, different operating systems, and different debug methods. This brings about the need for more integration of the software development and debug capabilities into a truly INTEGRATED Development Environment. We will discuss code generation options, system level debugging from bare metal to applications running on a High-Level Operating System, and visibility into finer details such as detailed time tracing of tasks and inter-processor communications.
The Greg Davis Class (Conference)
Modern C++ and Advanced Debugging Techniques for Embedded Development
Wednesday, 22nd June, Class 6.3: 10:00 – 18:00
Serge Plagnol and Dr. Carmelo Loiacono of Green Hills Software will present a full day of classes covering the following topics::
Modern C++ for Embedded Development
Challenges in multithreading/multicore applications
Advanced Debugging Techniques (Live Demo)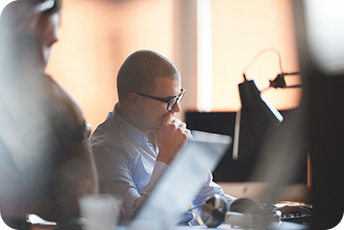 Conference Sessions
Understanding Embedded Systems Behavior: Debugging, Profiling and Tracing, Marcus Nissemark
Wednesday, 22nd June, Session 6.10: 13:45 – 14:15
Understanding embedded systems through debugging has traditionally been the default method, but as complexity grows, techniques like code instrumentation, printf-debugging, standardized logging, and trace capture have been introduced. Today's embedded systems are growing, virtualization is almost becoming a norm, and understanding the system behavior becomes crucial. In virtualized embedded systems, many layers interact in complex ways, and fixing bugs, adding features, and improving application performance require an efficient understanding of the code base.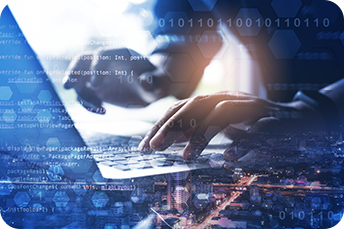 Unfortunately, problems often arise when all parts are integrated to a full system, and the analysis becomes even more challenging. Determining the root cause of issues can take a very long time, and with multiple parties involved, the resolution of a problem could be even harder due to lack of knowledge about other components, and problematic debugging techniques.
This session will go through the pros and cons of debugging and logging techniques and present a debug use case of a consolidated Instrument Cluster and Infotainment (IVI) system, built on top of a safe and secure hypervisor. We will compare common logging techniques with an advanced and efficient instrumented logging framework, and we will focus on advantages of getting a detailed view of program execution, with a small overhead when using instrumented logging, resulting in an efficient system analysis strategy using visualization techniques.
Comparing Virtualization Techniques and Driver Models: from MCUs to Application Processors,
Dr. Carmelo Loiacono
Thursday, 23rd June, Session 3.5: 13:45 – 14:15
A Hypervisor is a system software component that allows more than one independent software run-time to share a single processing unit. Modern embedded applications require a scalable and efficient architecture that guarantees freedom-from-interference to multiple operating systems running on the same CPU and offers flexible options to fully utilize multiple cores and processor resources. Regardless of the processor used, a virtualization solution should feature robust hardware-enforced software separation, multiple-OS support, and real-time efficiency to safely and securely consolidate critical workloads. However, processors targeted for different applications offer different types of virtualization features, as an example, some application processors (like Cortex A) also offer IOMMU support.
The aim of this session is to perform a detailed analysis considering different kinds of software virtualization techniques related to different hardware virtualization features provided by the modern MCUs and Application Processors. We will compare driver model, device assignment, scheduling techniques, performances, and safety and security of systems embedding a processor offering virtualization capabilities.
Meet Us
To request a meeting with a Green Hills representative, click here. Once you have submitted the form, we will contact you to confirm the meeting appointment.
To register for the exhibition click here to receive your free-of-charge exhibition ticket in advance (instead of €25.00).
To register for the conference, click here.