Product Type
Automotive Ethernet IP, Ethernet AVB/TSN Stacks and Solutions, DoIP, SOME/IP, Unified Diagnostics Service (UDS), RTP/RTCP, gPTP Slave/Bridging
Product or Product Family Name
Excelfore Ethernet Network Protocol Stacks
Product Summary
Excelfore has implemented Ethernet protocol stacks which have been integrated and deployed on numerous automotive production programs globally. Excelfore RTP protocol is believed to be the only commercially available RTP stack in production in the automotive industry. The Excelfore AVB stack was the first implementation to be certified by Avnu for both the 'talker' and 'listener' functions. The Excelfore AVB/TSN stack is running in cameras, video displays, head units, even ECUs. The Excelfore SOME/IP and DoIP stacks also run in network gateways so that CAN, LIN, and other automotive busses can be reached by Ethernet.
Product Descriptions
Excelfore Ethernet Network Protocol Stacks
Excelfore's full-featured integrated stack provides library components for: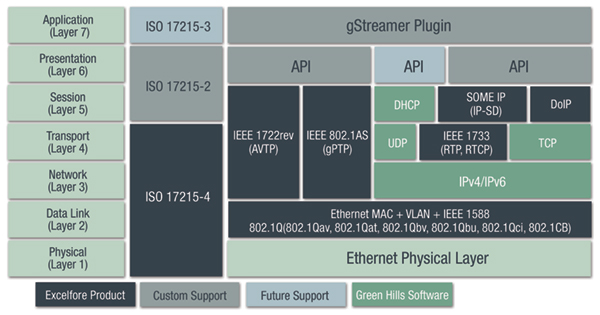 AVB/TSN Talker
AVB/TSN Listener
AVB/TSN Talker/Listener
VLAN, SRP, MAAP
SOME/IP, DoIP, UDS
IEEE 1722 & 1733
RTP/RTCP
IEEE1588 Precision Time Protocol (PTP)
IEEE 802.1AS-Rev Time Synchronization for Time-Sensitive Applications
IEEE 802.1CB Frame Replication and Elimination
IEEE 802.1Qbv Enhancements for Scheduled Traffic
IEEE 802.1Qbu Frame Pre-Emption
IEEE 802.1Qci Per Stream Filtering and Policing (switch support)
IEEE 802.1Qav Forwarding and Queuing for Time-Sensitive Streams
IEEE 8021.Qat Stream Reservation
IEEE 1722-2016 Layer 2 AV Transport Protocol (AVTP 2016)
IEEE 1722.1 Layer 2 AV Discovery, Enumeration, Connection and Control (AVDECC)
IEEE 1733 Layer 3 Transport Protocol for Time Sensitive Applications
ISO 14229-5 Unified Diagnostic Service (UDS)
ISO 13400-2 Diagnostic Communication over IP (DoIP, used in conjunction with UDS)
Excelfore DoIP Protocol Stack.
Implements the ISO 13400 standard. DoIP defines communication between ECUs in vehicle and Diagnostic test equipment using IP, TCP and UDP.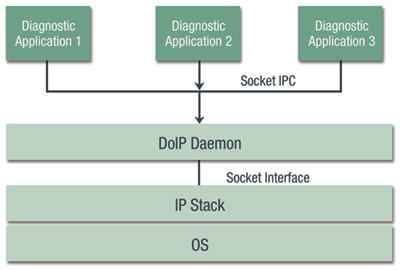 Excelfore Provides DoIP Stack for Vehicle Systems and Test Equipment along with:
Support for Multiple Diagnostics Applications
Modular Design - Enables Easy Integration
Default Activation Type can be Expanded

API to Support OEM-Specific DoIP Payload Types

Support for Optional DoIP Messages Available

DoIP Entity Status Request and Response Message
Vehicle ID Request Message with EID

Example Diagnostic and Test Applications
Excelfore SOME/IP Package.
Based on SOME/IP Protocol Specification in AUTOSAR FO Release 1.5.1. Designed to provide a portable, lightweight, and highly configurable alternative to open source libraries for automotive applications.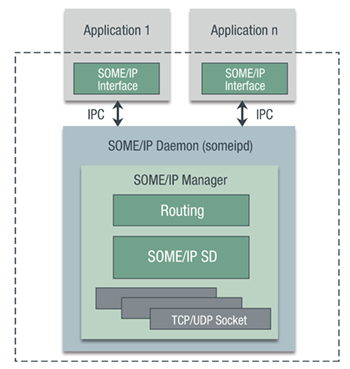 Small and Light
Supports Multiple Applications Running on Different Address Spaces
Configured as Client, Server or Both
SOME/IP Simulator for Linux PC to Simulate Test Environments
Modular Design - Enables Easy Integration
APIs and Example Applications to Speed Application Development
RTP/RTCP Library
Full RTP and RTCP support following rfc3550 with IEEE 1733-2011 RTCP AVB support.
Scalable design for multi-channel support
Supports symmetric RTP/RTCP rfc4961
Supports RTCP Reports: Sender and Receiver Reports, SDES, BYE, APP, AVB (IEEE Std 1733-2011)

Processor Architecture(s) Supported

Excelfore protocol stack are processor independent and have been deployed on a wide range of ARM and IA based automotive microprocessors.

Supported Green Hills Products

INTEGRITY RTOS
INTEGRITY Multivisor
GHNetv2 TCP/IP V4/V6 Networking Stack

Headquarters

Excelfore Corporation
3155 Kearney Street
Freemont, CA 94538 USA
www.excelfore.com

Return to Green Hills Software's partner directory