Leading the Embedded World
Green Hills Software's technology and services have been chosen by prominent companies in over 50 countries to build their electronic products for everything from MP3 players to jumbo jets. Our open architecture integrated development solutions address deeply embedded, absolute security and high-reliability applications for the military/avionics, medical, industrial, automotive, networking, consumer and other markets that demand industry-certified solutions.
In 2008, the Green Hills INTEGRITY-178B RTOS was the first and only operating system to be certified by the NSA to EAL 6+ High Robustness, the highest level of security ever achieved for any software product. Only an EAL 6+ High Robustness operating system is certified to protect high value resources at risk of attack from hostile and well-funded attackers.
Green Hills Software was founded in 1982, is privately held, has been profitable since its inception. Green Hills Software has averaged nearly 30% per year revenue growth and is now the world's largest independent RTOS company. Green Hills Software is headquartered in Santa Barbara, CA, with European headquarters in the United Kingdom.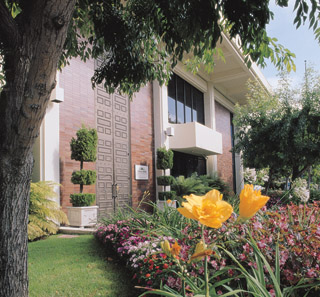 Green Hills Software headquarters in downtown Santa Barbara.