Processor Probes
SuperTrace Probe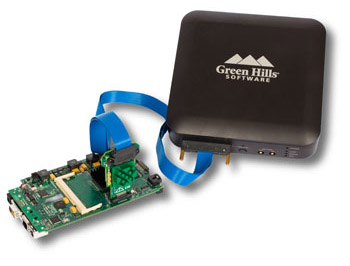 Green Hills Software's SuperTrace Probe v3 can capture up to 4 GB of trace data at clock speeds up to 1.2 GHz (trace port speeds over 300 MHz). These capabilities combine with the TimeMachine Debugging Suite of trace analysis tools to enable you to:
Fix bugs faster
Optimize with ease
Test with confidence
With its exceptionally large storage capability, the SuperTrace Probe can collect billions of trace frames, radically extending the capture window to help you find more bugs faster and easier than ever. Conventional trace hardware offers only a small fraction of this depth, limiting visibility to brief execution segments that have to be collected using carefully-defined triggers that are time-consuming and tedious to devise.
Green Hills Probe
The Green Hills Probe V4 is the fastest and most capable JTAG and trace debug probe ever made by Green Hills Software. Its 4GB of high-speed trace memory and 40 Gbits/second aggregate bandwidth combine with the TimeMachine Debugging Suite to enable software developers to find and fix bugs faster, optimize quickly, and test with confidence.
The Probe V4 was designed to find Heisenbugs, which are bugs that disappear or don't reproduce while debugging. These insidious bugs are responsible for endless software and product delays. Through fast trace capture over industry-standard protocols and with a deep capture buffer, the Green Hills Probe V4 provides all developers on all leading processors the most effective weapon against Heisenbugs: trace capture.