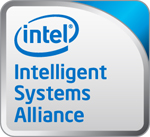 Intel (NASDAQ: INTC) is a world leader in computing innovation. The company designs and builds the essential technologies that serve as the foundation for the world's computing devices.
Product Type
Processors and Cores, CPU boards
Product Summary
Intel processors include Atom, Core™ i3, Core™ i5, Core™ i7, Celeron®, Pentium® and Xenon® targeting embedded, laptop, desktop and server platforms.
Processors Supported By Green Hills
Intel Atom
Core™ i3
Core™ i5
Core™ i7
Celeron®
Pentium®
Xenon®
Supported Green Hills Products
Green Hills Software is an Affiliate Member of the Intel Embedded Alliance, a community of embedded developers and solution providers
Company Headquarters
2200 Mission College Blvd.
Santa Clara, CA 95054-1549 USA
www.intel.com
Additional information about Intel is available at newsroom.intel.com and http://blogs.intel.com.
Intel and Intel logo are trademarks or registered trademarks of Intel Corporation or its subsidiaries in the United States and other countries.