Third Party Partners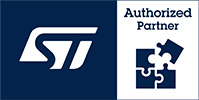 Product type
Microprocessors and Cores
At ST, we are 46,000 creators and makers of semiconductor technologies mastering the semiconductor supply chain with state-of-the-art manufacturing facilities.
An independent device manufacturer, we work with our 100,000 customers and thousands of partners to design and build products, solutions and ecosystems that address their challenges and opportunities, and the need to support a more sustainable world.
Product Description
Stellar Automotive Microcontrollers
Automotive microcontrollers featuring multiple Arm® Cortex®-R52 cores with on-chip non-volatile memory for safe, real-time performance, our Stellar MCUs provide advanced connectivity and security features to support the transition to service-oriented automotive system architectures.
Targeted applications include smart control for hybrid powertrain, the broad electrification of car systems with on-board chargers, battery-management systems and DC-DC controllers, as well as smart gateways, advanced driver assistance systems (ADAS) and enhanced vehicle stability controls.
Stellar MCUs comply with the automotive industry's demanding ISO 26262 ASIL-D safety standard. In addition to Cortex-R52 cores with lockstep capabilities, these innovative MCUs support hypervisors for software separation and memory protection as well as additional safety mechanisms.
SPC5 32-bit Automotive MCUs
Built on Power Architecture technology, the SPC56/57/58 MCU portfolio offers highly integrated solutions with a focus on quality and long-term reliability for automotive applications.
Telemaco3P Automotive Application Processors
Telemaco3P system-on-chip provides a cost-effective solution for ensuring a secure connection between the vehicle and the Cloud. Its asymmetric multi-core architecture provides powerful application processors as well as an independent CAN control subsystem with optimized power management.
Supported Green Hills Products
INTEGRITY RTOS
MULTI Integrated Development Environment
Optimizing C/C++ compilers
TimeMachine debugging suite
Green Hills Probe
Headquarters
39, Chemin du Champ des Filles
Plan-Les-Ouates
Geneva, CH 1228 Switzerland
www.st.com