INTEGRITY-178: The First EAL 6+ RTOS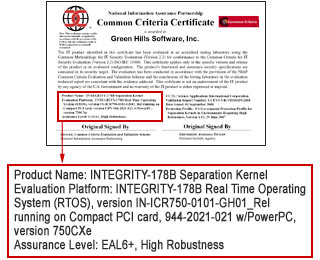 Click to download full-sized copy of EAL 6+ certificate
INTEGRITY: the only secure operating system
The INTEGRITY-178 RTOS has been evaluated by the National Security Agency and certified by National Information Assurance Partnership (NIAP) to EAL 6+ High Robustness for the protection of classified information against well funded sophisticated attackers. That is secure by anyone's definition.

The highest security standard to which any other operating system (Windows, Linux, Solaris & others) has ever been certified only protects against "inadvertent or casual attempts to breach the system security." That is not even close to secure by anyone's definition.

INTEGRITY is the only secure operating system.
Proven Deployed Technology
The INTEGRITY-178 and INTEGRITY-178 tuMP RTOSes have been deployed for over 30 years in systems that require absolute security and total reliability:
Flying the Boeing B1-B intercontinental nuclear bomber, the Boeing 787 Dreamliner, Lockheed Martin's
F-16, F-22 & F-35, and dozens of other aircraft
Enabling joint and coalition training systems, such the TCTS Inc. II
Securing military computers, satellites, networks, routers, cell phones, and radios
Supporing a widespread array of medical, industrial, and networking products
Running a multitude of consumer products from printers to kitchen ovens
The Universal Operating System
INTEGRITY can secure virtually any computer or computer controlled device from attack, even systems running operating systems such as Windows, Linux, Mac OS, Solaris, or VxWorks, whether it is in a PC, server, networking equipment, embedded system, smart phone, or critical infrastructure. INTEGRITY has more than a decade of fielded deployment in the following industries:
Medical
Industrial
Avionics & Aerospace
Automotive
Financial
Consumer
Government
Defense
INTEGRITY Security Services
Every day, over 2.8 Million data records were lost or stolen. The threat is real. The trend is accelerating. And the cost of compromise is increasing. Embedded system developers can no longer trust the network and design for security by addressing threats across the entire product lifecycle.
Integrity Security Services (ISS), a Green Hills Software company, offers complete end-to-end embedded security solutions addressing both device and enterprise security infrastructures. Our solutions are backed by 30 years of experience designing cryptographic systems at the highest levels of commercial and U.S. Government Security Assurance. We protect embedded devices from serious cybersecurity threats with the most comprehensive and flexible security solutions
INTEGRITY Global Security

INTEGRITY Global Security is the leading expert in providing the highest-certified level of IT security solutions for government, military and commercial enterprises. The foundation of INTEGRITY Global Security is the INTEGRITY-178 operating system, the only operating system technology certified to EAL 6+, High Robustness.