News & Press
Green Hills Software Offers Production-Focused Enablement for NXP S32G3 Processors to Support Safe and Secure Software-Defined Vehicles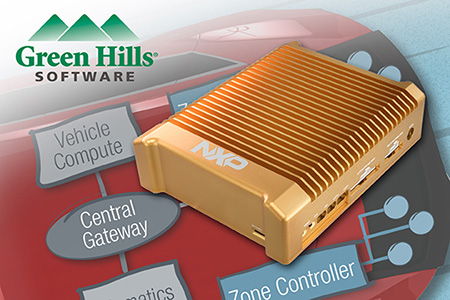 Green Hills expands its Secure Gateway Platform by adding OTA software updates, AVB/TSN, ASIL D safety RTOSes, hardware security integration, and high-performance vehicle networking for NXP S32G3 vehicle network processors
NUREMBERG, GERMANY — March 14, 2023 — Embedded World, Hall 4 Stand 325 — Green Hills Software, the worldwide leader in embedded safety and security, today announced its support for the new S32G3 vehicle network processor from NXP® Semiconductors, creating an integrated platform for efficiently developing and confidently deploying safe, secure and highly-performant vehicle network and domain controller solutions. This expanded support combines connected car middleware with essential foundational software from Green Hills that includes the safety and security-certified MPU and MCU real-time operating systems (RTOS), secure virtualization and a professional integrated development environment (IDE).
"We're pleased to continue our partnership with Green Hills to extend support for our S32G3 safe and secure high-performance vehicle network processors," said Ray Cornyn, Senior Vice President and General Manager, Vehicle Control and Networking Solutions at NXP. "The combination of the S32G3 processors with trusted real-time operating systems like INTEGRITY® and µ-velOSity™ provide a foundation for secure deterministic networking, service-oriented applications and ASIL D functional safety to meet system requirements for new vehicle architectures."
"The combined strengths of NXP's advanced S32G3 vehicle network processor with our safe and secure RTOSes, development tools and expert services expand our impressive list of successful solutions based on NXP S32 product families," said Dan Mender, Vice President, Business Development, Green Hills Software. "We are pleased to provide our production-ready SDV safety and security solutions for the powerful S32G3 vehicle network processor."
Key features of the Green Hills Platform for Secure Gateway for the NXP S32G3 processors include:
Extensive RTOS solutions for the heterogenous multicores of NXP's S32G3 — INTEGRITY RTOS, (Arm® Cortex®-A53 core complex), µ-velOSity RTOS (Arm® Cortex®-M7 core complex), and INTEGRITY Multivisor® secure virtualization services for Linux Guests
Safety and security certifications — 26262 ASIL D functional safety and ISO/SAE 21434 automotive cybersecurity
Integrated Development Environment — ASIL D-certified advanced multicore debugger with intuitive system visualization through the MULTI® IDE with industry-leading Green Hills C/C++ compilers
High performance, deterministic processing utilizing the S32G's Packet Forwarding Engine (PFE) with optimized application performance through the Green Hills Compilers and Arm® Neon® vector processing extensions
Secure cloud connectivity with OTA software updates and real-time ECU diagnostics reports, provided through strategic partners such as Excelfore
A rich partner ecosystem of secure communication protocols, secure lifecycle management, embedded firewalls, secure networking protocols (TLS, SSH, MACsec, Crypto libs), embedded file systems and data bases, application services and more
S32G3 processors combine hardware security, ASIL D safety, high-performance real-time and application processing, and network acceleration for vehicle computers, service-oriented gateways, domain controllers and safety coprocessors. They provide up to 2.5x more applications processing and Ethernet bandwidth than the S32G2 series'highest-performance device. Additionally, they offer double the number of isolation domains and include ISO 26262 ASIL D safety and hardware security — features that are critical for ECU consolidation. Network processing speeds get a big boost from the Packet Forwarding Engine (PFE) accelerator and Low Latency Communication Engine (LLCE). These substantial performance and isolation enhancements with the same package pinout as the S32G2 series address the needs of more demanding software-defined vehicles.
Demonstration The Green Hills Platform for Secure Gateway for the S32G3 vehicle network processors is being demonstrated at Embedded World, March 14-16, 2023, in the Green Hills booth at Hall 4, Stand 325.
About Green Hills Software
Founded in 1982, Green Hills Software is the worldwide leader in embedded safety and security. In 2008, the Green Hills INTEGRITY-178 RTOS was the first and only operating system to be certified by NIAP (National Information Assurance Partnership comprised of NSA & NIST) to EAL 6+, High Robustness, the highest level of security ever achieved for any software product. Our open architecture integrated development solutions address deeply embedded, absolute security and high-reliability applications for the military/avionics, medical, industrial, automotive, networking, consumer and other markets that demand industry-certified solutions. Green Hills Software is headquartered in Santa Barbara, CA, with European headquarters in the United Kingdom. Visit Green Hills Software at https://www.ghs.com.
Green Hills, the Green Hills logo, INTEGRITY, µ-velOSity and MULTI are trademarks or registered trademarks of Green Hills Software LLC, in the U.S. and/or internationally. All other trademarks are the property of their respective owners.
North American Sales Contact:
Green Hills Software
30 West Sola Street
Santa Barbara, CA 93101
Tel: 805-965-6044
Fax: 805-965-6343
Website: www.ghs.com
Email: info@ghs.com
International Sales Contact:
Green Hills Software Ltd
Fleming Business Centre
Leigh Road
Eastleigh SO50 9PD
UNITED KINGDOM
Tel: +44 (0)2380 649660
Fax: +44 (0)2380 649661
Email: mktg-europe@ghs.com

Media Contact:
Green Hills Software
Christopher Smith
Tel: +1 805 965 6044
Email: media@ghs.com