News & Press
MathWorks and Green Hills Software Develop Integration for Safety-Related Applications Using Infineon AURIX™ Microcontrollers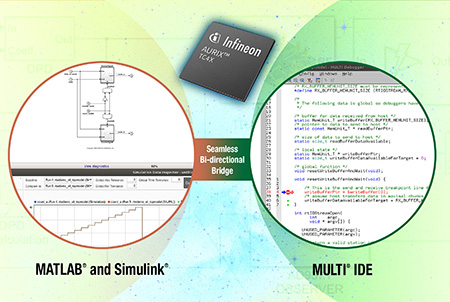 Natick, MA, and Santa Barbara, CA — March 14, 2023 — MathWorks, the leading developer of mathematical computing software, and Green Hills Software, the worldwide leader in embedded software safety and security, announced an integration that helps engineers design safety-related applications for the Infineon AURIX™ TC4x family of automotive microcontrollers using Simulink®. Engineers using the new family of microcontrollers automate compiling and building code generated by Embedded Coder® using Green Hills Software's support for AURIX, and then perform back-to-back testing using processor-in-loop (PIL) simulation.
"Electric vehicles and automated driving systems have disrupted conventional norms and introduced a generational change in the pace and scope of automotive electronics development," said Tom Erkkinen, Product Manager, Embedded Code Generation at MathWorks. "Green Hills is a leading embedded software vendor that we collaborate with to provide highly automated tools and workflows that comply with rigorous functional safety standards, such as ISO 26262."
Businesses manage hardware and software complexities with modern software development techniques, including virtual simulation and automated deployment. With this integration, automotive engineers move quickly from algorithm design to production deployment, knowing that the enabling tools from MathWorks and Green Hills Software support major safety standards. The ability to validate use cases, test algorithms, and automatically generate embedded software has the potential to improve organizations' time-to-market.
"Many of our customers use MathWorks products to create algorithms for embedded systems," said Rob Redfield, Director, Business Development at Green Hills Software. "Now, these customers not only have an easy-to-use way to run and verify these algorithms on embedded processors, but they also can debug, analyze, and optimize their code with safety-qualified optimizing C/C++ compilers and run-time libraries within the Green Hills MULTI® IDE."
This is the latest collaboration between MathWorks and Green Hills Software. These capabilities extend the collaboration between MathWorks and Green Hills Software that in 2021 generated the MULTI Toolbox for Embedded Coder, offered by Green Hills, enabling engineers to quickly and efficiently develop and deploy their Simulink and MATLAB® models on a wide range of embedded processors.
"The collaboration between MathWorks and Green Hills Software is a major step forward to accelerate the development of safety-critical applications using the AURIX™ TC4x family," said Thomas Schneid, Senior Director Software, Partner and Ecosystem management at Infineon Technologies AG. "MathWorks and Green Hills Software are two important partners that successfully support our customers in their developments."
MathWorks
MathWorks is the leading developer of mathematical computing software. MATLAB, the language of engineers and scientists, is a programming environment for algorithm development, data analysis, visualization, and numeric computation. Simulink is a block diagram environment for simulation and Model-Based Design of multidomain and embedded engineering systems. Engineers and scientists worldwide rely on these products to accelerate the pace of discovery, innovation, and development in automotive, aerospace, communications, electronics, industrial automation, and other industries. MATLAB and Simulink are fundamental teaching and research tools in the world's top universities and learning institutions. Founded in 1984, MathWorks employs more than 5000 people in 16 countries, with headquarters in Natick, Massachusetts, USA. For additional information, visit mathworks.com.
MATLAB and Simulink are registered trademarks of The MathWorks, Inc. See mathworks.com/trademarks a list of additional trademarks. Other product or brand names may be trademarks or registered trademarks of their respective holders.
About Green Hills Software
Founded in 1982, Green Hills Software is the worldwide leader in embedded safety and security. In 2008, the Green Hills INTEGRITY-178 RTOS was the first and only operating system to be certified by NIAP (National Information Assurance Partnership comprised of NSA & NIST) to EAL 6+, High Robustness, the highest level of security ever achieved for any software product. Our open architecture integrated development solutions address deeply embedded, absolute security and high-reliability applications for the military/avionics, medical, industrial, automotive, networking, consumer and other markets that demand industry-certified solutions. Green Hills Software is headquartered in Santa Barbara, CA, with European headquarters in the United Kingdom. Visit Green Hills Software at https://www.ghs.com.
Green Hills, the Green Hills logo, INTEGRITY, µ-velOSity and MULTI are trademarks or registered trademarks of Green Hills Software LLC, in the U.S. and/or internationally. All other trademarks are the property of their respective owners.
North American Sales Contact:
Green Hills Software
30 West Sola Street
Santa Barbara, CA 93101
Tel: 805-965-6044
Fax: 805-965-6343
Website: www.ghs.com
Email: info@ghs.com
International Sales Contact:
Green Hills Software Ltd
Fleming Business Centre
Leigh Road
Eastleigh SO50 9PD
UNITED KINGDOM
Tel: +44 (0)2380 649660
Fax: +44 (0)2380 649661
Email: mktg-europe@ghs.com

Media Contacts:
MathWorks
Tim Morin
Tel: +1 508 647 3048
Green Hills Software
Christopher Smith
Tel: +1 805 965 6044
Email: media@ghs.com